Welcome to Hyndburn Park Primary School!
Our school is busy, thriving, popular and successful, with everyone involved working hard to help our children to be the best they can and get the most out of their time in school. Our curriculum is designed to promote high standards, develop a love of learning, and encourage children to become independent, thoughtful and considerate members of society. We work hard with families to ensure that every child's needs are met; that each one is challenged and supported to achieve as much as they can do, and hopefully have fun in the process! We are proud of our school and the improvements we have made to it over the past nine years or so. Our website contains much information, but if there is something else you would like to find out, or if you would like to visit the school, please don't hesitate to contact us. If you would like a hard copy of any of the information on the website just let us know and we will happily provide what you need.
With very best wishes,
Wendy Tracey
Headteacher
Lantern Making
As a part of Amazing Accrington, an artist came in to work with our AGT art children. Together they created some beautiful lanterns! They all had a fab time and learnt some new skills.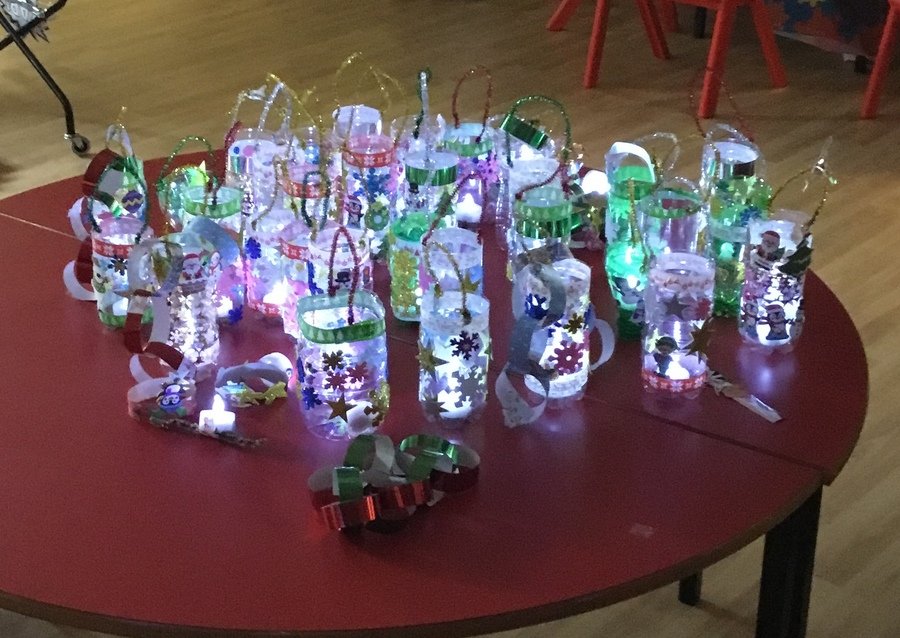 Year 3 and 4 visited two different museums as part of WW1 theme on Tuesday 19th November. The Museum of Lancashire and the Lancashire Infantry museum. The children learnt about life in trenches and spent time in a life like trench, wearing helmets and ringing the warning bell for danger. they also looked at the role of a nurse.
They went on to learn how to become soldiers and signed up!!!
They had to follow drill commands and the Colour Sergeant shouted his orders very very loud but it was exciting and lots of fun.
A Magical Day!
EYFS had a wonderfully magical day when Cinderella came to visit! She shared her story and the children helped her do some magic to turn them all into princes and princesses! ianlly we played some games and did some dancing. The children all looked fantastic and loved their visit! Cinderella said "I really had the best time. It was an absolute pleasure and I thoroughly enjoyed every second. And I'm so glad to hear that the children enjoyed themselves."
Local Walk and Making Houses!
KS1 have recently used their design and technology skills to make houses. The children and staff went on a walk around the local area to look at the different houses and buildings and observe the features. Back in the classroom, the children thought about what they wanted their house to look like, gathered the materials the needed and got to work. The end results are fab!
Super Sculptures!
Y5 and Y6 have been on a trip to the sculpture trail at Pendle hill. The children and staff had a great time (despite the weather!) exploring the area and finding all the different sculptures. They then had the artists Lee and Victoria into school to show the classes how they made the sculptures. The children were then shown how to make there own sculptures using different materials.
Return to the Stone Age!
We had a super fun day with a special visitor who shared exciting real artefacts from the stone age including a real woolly mammoth's tooth! We learnt lots of new information and took part in great activities. We even threw spears and had a hunting competition. We made modern day, cave inspired artwork. We investigated about the Mesolithic, Paleoloithic and Neoltithic era's. We followed the journey of the first Stone Age man right through to the bronze age where they began to use metals and Homosapiens survived.